The Ninja FD401 Foodi 8 Qt 9-In-1 Deluxe XL Cooker Air Fryer Stainless Steel Pressure Cooker 8-Quart product review brings you all you need to know about the appliance. Ninja brings an upscale feel to your countertop! I spent a lot of time researching and learning about the FD401 Foodi and where to get the Ninja FD401 Foodi 8 Qt 9 In 1 Deluxe XL Cooker Air Fryer Stainless Steel Pressure Cooker 8 Quart. Here is the comprehensive review of the best XL cooker.
What is Covered in This Comprehensive Review?
Cooking Functions
Pressure Cooking Parts
Best Design for Ninja FD401 Foodi 8-Quart
I have always been fond of Ninja products, and I have a few of their products that I use daily, like the Ninja food processor. The cool thing about the Ninja FD401 is that it does everything so well!
Ninja FD401 Foodi 8 Qt 9 In 1 Deluxe XL Cooker Air Fryer Stainless Steel Pressure Cooker 8 Quarts is rather fantastic, with quite a bit to love and is very uncomplicated-to-use. 
Truthfully, I have always wanted an air fryer, and I also wanted to upgrade my stovetop pressure cooker with an electronic one, like an instant pot. I didn't want the multiple appliances on my countertop, consuming all the space. So when I found the Ninja FD401, I was so excited to purchase this practical yet elegant Kitchen appliance.
The Tender Crisp technology lets you quickly go from frozen to crispy in as little as 20 minutes. Needless to say, the 8-qt. Cooking pot and 5-qt. Cook & crisp basket make it easy to cook and air fry delicious treats and meals in an instant. Furthermore, the Stainless Steel finish and enhanced user interface provide the most premium Foodi experience yet!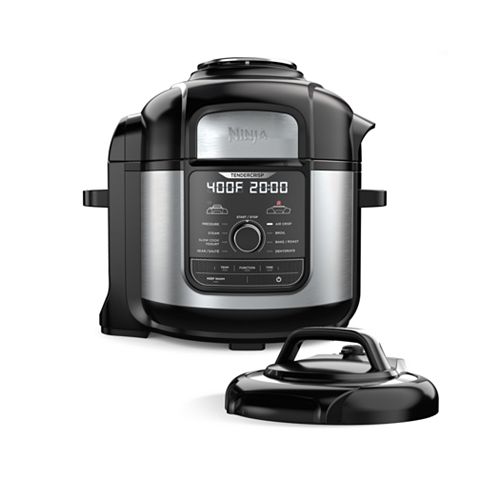 What Is The Ninja FD401 Foodi XL Cooker?
Ok, So, I finally ordered the Ninja FD401 from Amazon, and I was so excited to receive the delivery. I rushed to open the box. Granted, it is an extra-large appliance, yet I found it to be so elegantly designed and exceptionally rich-looking. I especially like the stainless steel trim and its contrast with the black color, exceptional!
I placed it on my counter and immediately noticed that it added a bit of class to my kitchen. Honestly, I love this cooker! It is what I expected from Ninja, excellent quality, and fantastic design.
The main problem I have is to eat healthily, so I needed an air fryer, but I also wanted to be able to pressure cook my food after searing it to seal in the flavor. I wanted something that is not too complicated to use and easy to clean.
The first thing I did after I placed it on my countertop is to read the accompanying users' guide and the instructional manual. It seems a bit overwhelming at first, but it isn't really. If you feel that way, or might be hesitant to purchase one, Then, let me give you some tips.
My Tips:
The Ninja FD401 is an x-large cooker; you can think of its size as a large round crockpot. The product comes with an inner bowl with a ceramic coating and an air fryer basket. It comes with a pressure lid and has a rack with an additional rack that attaches to it. Ultimatily, It is large enough to fit all my needs.
The added feature that I admire in the Ninja FD401 is the yogurt maker. I enjoy eating greek yogurt, and this Foodi makes it overnight so I can enjoy my freshly made yogurt in my smoothie or as a later morning snack. Here are some of the pictures of the dishes I made so far with the FD401.
XL Ninja FD401 Foodi 8 Qt 9 In 1 Deluxe Cooker Description
This product pressure cooks, air crisps, sears/sautés, bakes, broils, steams, slow cooks, dehydrates, and makes yogurt.
The FD401 Foodi capacity is an XL 5-quart Cook and crisp basket
The Tender Crisp cooking technology is Ninja's trademark!
It also has a deluxe reversible rack
In as little as 20 minutes, this excellent kitchen appliance, pressure cooks frozen meats by quickly defrosting and cooking them at the same time.
The crisping lid gives your meal this wonderful crispy finish
Ninja FD401 Product specifications
Product dimensions (in.): 16.1 L x 14.6 W x 14.3 H
Cord Length (ft.): 3
Wattage: 1760 watts
Color: Stainless steel/black
Capacity: 8 quarts
Dishwasher-safe parts: Yes
BPA free: Yes
Size Consideration of The Ninja FD401 Foodi Cooker
The first consideration is size. When deciding where to put the Ninja FD401. There are also somethings to keep in mind.
The minimum circumference you need is 16 inches to put this kitchen appliance on the counter.
When the hinged lid is open, it requires 19 inches of width.
You also need 24 inches of headroom for the attached crisping lid to remain open when you pressure cook your food. The clearance is also necessary when you open the crisping lid to remove the air frying food.
While air frying, the air crisp hinged lid is closed, and the Ninja FD401 stands only 14 inches high.
Other Considerations and Tips:
The Ninja FD401 is impressive; however, you have to have the counter space for such a unique system. It takes up quite a bit of room, but it is worth it if you are cooking a tasty variety for a large family.
And keep in mind, the foodi replaces nine different machines. For me, it replaced three appliances, the pressure cooker, the air fryer, and the yogurt maker. So, it effectively saves counter space or storage space for the others.
Please remember to use only wood or silicone utensils on any of the pans in the foodi. Be gentle with it when putting the different racks or air fryer containers in it.
Just like any pressure cooker, you will have to release steam. So, think about where you will place it so you would not cause damage for the long term from steam release.
Also, be aware that the inside of the foodi will be hot, so be extra careful when you are removing the racks or the inner pan.
Furthermore, the outer stainless steel trim may get a bit hot to the touch.
The XL Ninja FD401 Foodi Cooking Functions Review
The Ninja Foodi cooks food quickly while maintaining tenderness.
STEAM:
Steaming is an excellent way of gently cooking delicate foods at a high temperature.
SLOW COOK:
Slowly cooking your food at a lower temperature for an extended time is a healthy way of keeping all the nutrients while cooking your meals.
YOGURT:
This machine makes delicious, healthy, and creamy homemade yogurt. You have the flexibility to select pasteurize, ferment or a longer time for a tangier yogurt with a thicker consistency. You can also set the unit for 12 hours to achieve Greek-style yogurt.
SEAR/SAUTÉ:
The Ninja FD401 is excellent for searing and sautéing. Just use the unit as a stovetop for browning meats, sautéing veggies, simmering sauces, and more. I wait for the surface and oil to become hot before adding ingredients.
AIR CRISP:
This incredible Air Crisper gives food crispiness and crunchiness with little to no oil. Air Crisp is my favorite option for healthy eating.
BROIL:
Broil setting uses high temperature to caramelize and brown your food.
BAKE/ROAST:
I use the unit like an oven for tender meats, baked treats, and more.
DEHYDRATE:
The Dehydrate setting is excellent for dehydrating meats, fruits, and vegetables for healthy snacks.
KEEP WARM:
After pressure cooking, steaming, or slow cooking, the unit will automatically switch to Keep Warm setting and start counting up. If you set function, Keep Warm, it will stay on for 12 hours, or you may press KEEP WARM to turn it off. Keep Warm mode is not intended to warm cold food, but to keep it warm at a food-safe temperature.
Many are wondering why the FD401? And what is the difference between the FD401 and the Ninja OP401? Especially since the OP401 is a little bit cheaper than the FD401.
Then, let me tell you what I discovered when I was researching whether to buy the FD401 or OP401. First, and before I purchased the FD401, I contacted Ninja foodi and asked them this specific question.
Here is the Ninja Foodi Response:
"Thank you for reaching out to Ninja®. We are thrilled to hear that you are interested in our products, and we are glad to continue assisting you. In regards to your inquiry, the main differences between these two units are:
Ninja FD401 comes with the yogurt function, and the OP401 Does not have this. 
The OP401 unit has 1700W and comes with the pressure lid, crisping lid, XL 8-quart ceramic-coated pot, stainless steel reversible rack, XL 5-quart ceramic-coated Cook & Crisp Basket, Cook & Crisp Layered insert, 45-recipes inspiration guide, and instructional manual.
Also, the Ninja FD401 unit has 1760W and comes with the crisping lid, pressure lid, 8-quart ceramic-coated pot, 5-quart ceramic-coated Cook & Crisp™ Basket, Stainless steel Deluxe Reversible Rack, and a 45+ recipe chef-inspired cookbook.
We hope you find this information helpful. Please do not hesitate to reach out if you ever have another inquiry".
Based on their answer, I decided to buy the FD401 because I wanted the yogurt maker and the extra power.
PRESSURE COOKING
HINGED LID:
I use the hinged lid only with the AIR CRISP, BROIL, ROAST, and DEHYDRATE functions. While cooking, If I need to peek in there, I lift the hinged lid and carefully take a quick look at the food.

PRESSURE COOKER LID
Per the company's recommendation, the pressure cooker lid is used only with the PRESSURE, STEAM, and SLOW COOK functions. Meanwhile, I also use It with the SEAR/SAUTÉ function.
Some recipes require the pressure lid on. Then, you will pressure cook, release the valve, add some ingredients, and sometimes pressure cook again. You may have to change to a broil setting which requires you to remove the pressure lid and place the hinged lid with the fan and heater on top to finish.
No worries, all the directions are easy to follow, and you will get the hang of it after your first or second use.
AIR FRYING
There is an air fryer basket that comes with this. It sits inside the ceramic pan so the air can circulate.
BROIL
If you want to finish your recipe with a broil, then use the hinged lid to crisp the topping.
STEAM, SLOW COOK, DEHYDRATE, YOGURT, BAKE
All of these settings require either of the lids and are pretty easy to do with the book.
Deluxe Reversible Rack
The Deluxe Reversible Rack lets you steam and broil, as well as TenderCrisp up to eight chicken breasts at once, or add services to layered 360 meals.
Ninja FD401 COOKBOOK
The package comes with two books.
One is a small instructional manual with the necessary information to help you decide what to make and how.
There is also a cookbook to help you start cooking some essential recipes.
How Does The Ninja FD401 Perform?
Once I read the instructions and got acquainted with the Ninja FD401, I decided to try something straight forward, frozen French fries. When I got them done, these were the best fries I have had. There was a perfect balance of moisture and crispy when following instructions.
DISHES I PREPARED WITH THE NINJA FD401
I pressure cook all my ribs and roasts; beef ribs, baby back pork ribs, pork shoulder roast, and beef roast. I finish everything off on Bbq, or you can use the AIR CRISP feature. It is my favorite.
CHICKEN AND DUMPLINGS – Absolutely the BEST I have EVER had, and we have used a lot of different methods.
RICE, VEGETABLE, CHICKEN TRIO – it was challenging to do at first, but the result was worth it.
SWEET POTATO FRIES – fantastic balance of moisture and crisp
Zucchini or Banana Bread – done perfectly
PEACH COBBLER – peaches full of flavor and the crumble crust was fantastic
I will make yogurt soon.
Next, I may make gluten-free recipes and paleo ones.
Cleaning The Ninja FD401 Foodi Cooker
I highly recommend that you take the time to clean the unit AFTER EVERY USE.
When Cleaning The Cooking Pot, The Cook & Crisp Basket, and The Reversible Layered Rack:
The Cooking pot, Cook & Crisp Basket, and the reversible rack are easy to clean thoroughly after every use with warm, soapy water. They are also dishwasher safe, which is a plus! It makes it easy for me to put the cooking pot, the cook & Crisp basket, and the reversible rack together in the dishwasher after I finish cooking.
While Cleaning The Splash Guard:
The splash guard on the inside of the hinged lid is made explicitly for easy cleaning. I typically wait until the hinged lid has completely cooled down from cooking, then I wipe the vent and outside of the cover with a damp paper towel or sponge to clean. It is crucial to NOT spray cleaning solution directly onto vents.

Also, Cleaning The Pressure Cooker Lid:
I wash the pressure cooker lid, including the silicone rubber gasket (removable), pressure release valve, and anti-block shield with water and detergent. They clean up pretty well.
My Take on The Ninja FD401 Foodi – My Review
Although this is an X-Large pressure cooker as well as a bit challenging at first to learn, it is worth every moment. It is a fabulous product, and if you treat it with respect, you will get some amazing performance from it. Just remember to read the instructions and clean it after every use, and you will be happy you did. If you have the counter space, then this is an excellent product for you.
In my opinion, Ninja FD401 is a FIVE STARS product. I love this Ninja Foodi, and I am so glad I purchased it. The food cooked in this product is so flavorful and quick to make. All of the raving you hear about this product is true.
The Ninja FD401 Foodi is an excellent appliance for the kitchen, especially in hot weather, when heating the oven is not your favorite option. Also, having it in addition to the stove/oven for the holidays, like Thanksgiving and Christmas, is a plus as it makes preparing dinner for a large group much more manageable.
Where To Buy the Ninja Foodi FD401
$249.99
$269.99
in stock
13 new from $240.50
4 used from $174.99
Amazon.com
Free shipping
Last updated on September 23, 2020 1:15 pm